Manager Breeding, MT-position
Locatie

Broek op Langedijk, The Netherlands

Sector

Agribusiness Open Teelten

Functiegroep

R&D & Kwaliteitsmanagement, Nutritie & Veredeling Plant/Dier

Opleidingsniveau

Bachelor/ Master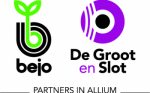 Are you market-oriented, firm, communicative and with a clear R&D vision?
On behalf of De Groot en Slot we would like to meet you!
Manager Breeding, MT-position
Natural leader, entrepreneurial with practical attitude
De Groot en Slot is a seed breeding company with one specialism: Allium (seed, plant, stem and spring onions, shallots and garlic). They have been developing and maintaining new, high-quality varieties with great success for more than 65 years, of which more than 50 years together with their partner Bejo. Together they are the world market leader in onion seeds. De Groot en Slot is a company that produces in a socially responsible manner where employees enjoy doing their work in a varied and challenging environment. Due to internal promotion, we are looking for a Breeding Manager.
What are you going to do?
You lead the breeding team of ten employees, including (assistant) breeders, a selection field planner and a seed process coordinator. The department is supported by other teams, such as grower assistants and support staff. You are facing the challenge of realizing the objectives in the field of Breeding, both at home and abroad, together with your team. You are jointly responsible for the development and implementation of the strategy and the policy to be pursued. Worldwide you are responsible for contracting, planning, arranging and installing trial and selection fields.
What else is part of your duties:
you check for varietal purity and producibility of new and existing varieties;
you are a member of the management team and report to the board;
you represent De Groot en Slot in various consultative bodies, networks and knowledge exchange projects;
in the partnership with Bejo, you and the Crop Research Manager Allium ensure a constructive and respectful way of working together.
In a number of cases you are functional leader for (international) breeders, outside the permanent team, who work at Bejo. You regularly travel abroad, among others to visit test and selection fields and for contacts with international stakeholders in the seed business.
Who are we looking for?
In addition to a completed Bsc/Msc education and additional management training, you have a strong affinity with the industry and you have general product knowledge;
Experience within an agricultural production or trading company and knowledge of breeding is a strong advantage;
You have a strong personality with sufficient natural preponderance to stimulate and motivate a team of experienced breeders and to successfully continue the collaboration with Bejo for both partners;
You are enterpreneurial, result-oriented and have a pragmatic attitude;
You communicate easily and you have a good command of the Dutch and English language;
You are willing to travel internationally with a certain frequency (about 15% of your time).
What does De Groot en Slot offer you?
You will be offered a varied position with a lot of responsibility in a growing and exciting organization in which they pay attention to each other and attach great value to a pleasant working atmosphere and good cooperation. They would like to maintain this collegial atmosphere and that is why they drink coffee or tea together every day.
Of course it's hard work too, but there is also time for fun. For example, they regularly organize funny company activities, they annually put the jubilees in the spotlight during a pleasant party and they have an active staff association that organizes all kinds of activities.
You will be given the opportunity and space to independently further develop your professional and personal qualities. They also offer you excellent employment conditions, including a permanent contract, a bonus scheme and you can participate in the sports or cycling scheme.
Interested?
Have you become enthusiastic about this responsible and managerial R&D position within an innovative environment and does the profile suit you? We would like to meet you.
If you would prefer more information, please contact Johan Grootscholten, managing partner / senior consultant of Green Career Consult, available on mobile number 06-38976049.
Applications preferably by e-mail to Johan Grootscholten,, johan@greencareerconsult.nl
For further information about De Groot en Slot, visit: www.degrootenslot.nl.
De Groot en Slot has selected Green Career Consult as exclusive Search partner.
Green Career Consult is a specialized agency for Recruitment, Executive Search and Career Coaching, which focuses in particular on companies and employees active in the Agribusiness, Horticulture and Food sectors. Candidates we mediate and supervise have several years of work experience and are prepared for a career within Agribusiness, Horticulture and Food by means of a higher professional education or university education. Green Career Consult wants to be a committed, practical and result-oriented service provider with an eye for the fact that every person is unique and has its own personality, special skills and specific knowledge. We strive to forge lasting relationships with the organizations and candidates we work for.